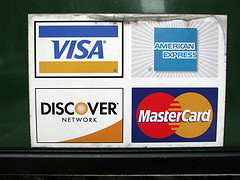 If you're a credit card holder, then you probably already know about—high credit card interest rates. Sure, credit cards can be great for their convenience, ease of use, and the line of credit. But you have to use them wisely or they could cost you big time in interest (default rates can be as high as in the 30% range) and fees. The other day I had a conversation with someone that spawned this post.
If you were a fly on the wall, the conversation went a little like this:
Question: Do you know how I can use my credit card without paying any interest on my purchases? I don't want to pay any high credit card interest! I know it's good to have a credit card. I enjoy getting the benefits from my purchases like cash back. Right now, I use my credit card to make online and larger purchases (e.g. car maintenance). I immediately pay my credit card after I make the purchase to avoid paying any interest.
My response: You're absolutely right, credit cards give you some nice benefits (e.g. purchase protection, travel perks, and insurance). But if you're not careful the costs (fees, high interest rates) could outweigh the benefits.
That's great when you make it a habit to pay your purchases off and avoid paying any credit card interest. However, you usually don't have to pay your purchases off immediately to avoid paying any interest. Another way you could avoid paying high credit card interest on your purchases is to pay your bill in full by the due date.
Credit cards normally offer you something called a "grace period" to avoid any interest charges on new purchases. And if you pay your balance in full by the due date (within the grace period), you don't have to pay any interest. Be sure to check your credit card terms or call the number on the back of your card to find out how your credit card works first. If your credit card has a grace period, then you can avoid paying any interest when you pay your balance in full by the due date. Plus, this way of paying saves you time, since you won't have to pay your credit card every time you make a purchase.
To find out how your credit card works – You may want to call and ask the credit card company, "How does the grace period work for new purchases on my account?" I called some credit card companies to specifically ask this question and here's what I was told:
American Express: The grace period is actually 25 days from the statement closing date that is on the bill. In this regard, you have the ability to pay it in full or pay the minimum to keep the account current. You will be charged with interest if you don't pay it in full by the due date.

Discover: For purchases it's about 25 days. But it's based on when you make the purchase. So you may get a longer period if the purchase is made after your statement's cutoff date. As long as you pay your balance in full, by the due date on the statement, then there is no interest.

Visa: You have a grace period from the time a statement is mailed out until there is a payment required on the account. You have 25 days to pay it off without any interest. If you don't, then the interest accumulates daily from the day the initial purchase was made.
IMPORTANT NOTE: Credit card terms and conditions vary from card to card. For example, just because your card says Visa doesn't mean it works the same way as the Visa card in the example above. Check with your credit card company directly to find out how your card works.
Do you have any other thoughts on how to avoid paying interest on your credit card purchases?
Photo: The Truth About…