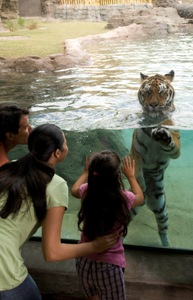 It's been awhile since my last blog post. I spent the past few weeks enjoying the final days of summer with family and friends.
This year we decided to go on an amusement park vacation to Busch Gardens and Adventure Island in Tampa Bay, FL. Our family had a wonderful time riding roller coasters, enjoying the new Sesame Street Safari, seeing the beautiful animals, cooling off at the water park and more. Busch Gardens is my favorite park, because it has great entertainment (rides, animals and shows) for everyone.
During our vacation we squeezed in some back to school shopping. After all, I could not miss out on the tax free holiday shopping days. And we combined it with back to school sales and coupons to save more money.
Summer's almost over and my 4-year-old is eagerly waiting for winter. Last week, she asked if she could put on her jacket and go outside to build a snowman. I told her it was too warm for a jacket and there wasn't any snow yet. Her response, "Well, can I build one with grass?" 😀
I hope you enjoy your final days of summer!
Photo: Busch Gardens