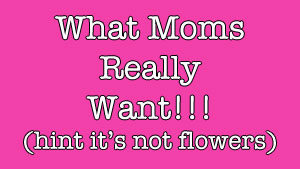 Today's May 6th and Mother's Day is Sunday May 8th. So procrastinators rejoice, you still have some time. As for me, I'm just hoping my gift arrives in time (I mailed it a few days ago). 😉
Did you know that Mother's Day is the second biggest holiday for spending after the Christmas holidays? It's a big one. That doesn't mean you have to spend a lot of cash to make your Mom feel special.
According to a RetailMeNot survey, moms want a nice meal the most. You don't have to spend a lot on a fancy Mother's Day brunch either. You can get in the kitchen and make her something special yourself.
I love it when my husband and daughters make me a homemade breakfast, especially when they make my favorite dishes. And they always do make it delicious. I think they may be up to something different this year. My nine-year old asked me about my favorite food this morning.
Dread cooking and crowded restaurants? Check out RetailMeNot's Mother's Day infographic to see what other things mom wants: [Read more…]