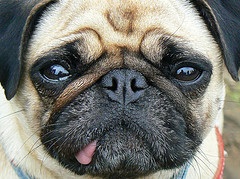 The other day I saw an interesting survey on Bloomberg. The question caught my eye and the multiple-choice answers really peeked my interest.
The Bloomberg survey said:
Who do you trust the most to manage your money?

Myself
My dog
My independent planner/adviser
An algorithm
My mother/father
My broker
My insurance agent
So who do you trust? I had to participate in this survey and see how the respondents were thinking. I hoped that the top answer would be 'myself'. Because as I always say "nobody cares more about your money than YOU."
I responded to the survey and instantly my answer was crunched together with everyone else's. The results at the time I took the survey were:
| | |
| --- | --- |
| Myself | 73.63% |
| My dog | 12.09% |
| My independent planner/adviser | 7.69% |
| An algorithm | 4.40% |
| My mother/father | 2% |
| My broker | 0% |
| My insurance agent | 0% |
It took me back to the time when Leona Helmsley left her dog $12 million. I wonder what her dog did with all that loot. What kind of money skills did that pooch have?'Myself' was the first choice. Yeah! But how could 'my dog' be second? I mean really, trust a dog to manage finances. That must be SOME DOG (you know like some pig in Charlotte's Web).
Perhaps the respondents were just having fun with the survey. Who knows? Someone told me that they probably chose 'my dog' because they feel managing money is all luck. I hope not.
Since I don't have a dog myself, I'd like to hear from you dog owners. Would you trust your dog to manage your money? Enlighten me please. 🙂
Photo: e3000