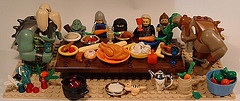 Can you believe it's Thanksgiving already? I sure can't. Now is the time for sharing and reflecting on the many things and people we have to be thankful for.
While I try to have an attitude of gratitude throughout the year. I'd like to take this moment to send you a special THANK YOU. Thanks for your time!
You see time is something we never get back. And I really appreciate the time you've spent reading blog posts like this one and your participation in general.
May your Thanksgiving be filled with joy, peace and happiness. And lots of good food and fun too! (more…)