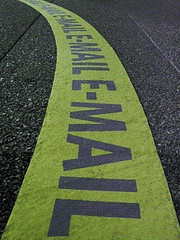 If your email box is anything like mine, I'm sure you have a process for those you open and delete. The most annoying emails I receive are the fraudulent ones. You know the emails that claim you've won the lottery, a car or an inheritance from someone you never even knew.
This past weekend I received one claiming to be a "BMW WINNING NOTIFICATION." Sounds exciting at first glance and I normally just delete it, but I decided to open this one and share it with you in this post – Beware of Email Fraud.
When you first open these types of emails, they always try to lure you with a generic upbeat opening. This one started with "Dear Lucky Winner." Congratulations you have won a new BMW 5 series! To really convince me, they went on to describe the BMW: color (Black Sapphire Metallic), premium package, type of transmission etc.
Wow, I've won something without even entering any contest. I must be lucky, because there's no other explanation. Not convinced? Well, they go on and explain the intricate selection process:
"The selection process was carried out through random selection in our Computerized Email Selection System (C.E.S.S.) from a database of over a million email addresses from the worldwide web. Each email address was attached to a ticket number and your email address with ticket number: 5647600545188 and serial number: BMWP/556543450906 was randomly selected as the star prize winner amongst other consolation prize winners."
Now that you understand what and how (blah, blah, blah) you've won your new BMW. Here's the catch to receive your unbelievable prize, kindly fill out your personal information via email and we'll get it right to you. This is a big Red Flag! Don't reply to any email phishing for your personal information. For example, an email that requests your address, any financial related information (e.g. account information, passwords) or a copy of your ID (i.e. driver's license).
The Claims Manager that I was supposed to send my personal claim information to was a Dr. to make it sound official. The email was so awful that they were inconsistent with the Dr.'s first and last names.
One thing I find in common with these types of emails is that the contact information (address and phone number) is never in the U.S. The email address is suspect too. If they're supposed to represent BMW, why are they asking me to respond to an email address @live.com?
I decided to contact BMW and inform them of the scam. To my surprise when I visited the company's contact page on their website, I saw a warning posted for email fraud. BMW's contact page read "ALERT: EMAIL FRAUD WARNING":
BMW of North America will never ask you to send or confirm personal information by email, including but not limited to: your name, address, passwords or financial information. If you receive an email from someone purporting to be BMW, or a division of BMW, such as the Security Department or Lottery Department, asking for this type of information, DO NOT RESPOND TO IT. It is most likely a fraudulent email, the sole and only purpose of which is to elicit your personal information. To be safe, we recommend you add the sender to your blocked email or SPAM email list.
Email Fraud Tips:
Do not reply, respond or answer email messages requesting your personal information (accounts, identification information). [Read more…]